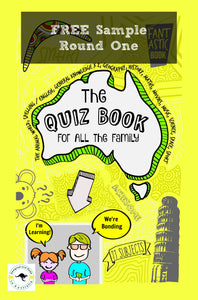 Travelling Australia With Kids
FREE Download Sample of Round One of the TAWK Quiz Book
Regular price
$0.00
$0.00
This Free Sample of Round One of the TAWK Quiz Book will give your family an opportunity to try our book.
 Plus, travelling across our great land, sometimes means hours in the car.  Now you can utilise this time and educate the kids as you go. Shhhhh!!  Don't tell them!
Also great for sitting at the table after dinner and want to play a few rounds together or you are sitting round a campfire.
We hope you enjoy this free sample and you go on to buy a copy of the full version, either the eBook or the physical book.
We truly appreciate your support of TAWK 😊
---
More from this collection